7. Chester's Christmas Market
Dates - 17th November - 10th December

Location - Town Hall Square, Northgate Street, CH1 2HJ

Chester Christmas Market returns to the city's heart, promising a festive wonderland. With 70 traders nestled around the town hall, new arcade, and forum, all under the glow of the city's iconic illuminated tree, a magical shopping experience awaits. From unique local crafts and jewellery to the perfect stocking fillers, Chester ensures a festive season to remember. As you revel in the Yuletide spirit, don't miss the fairy light-adorned, historic half-timbered buildings. Venture beyond the market to explore the ancient Rows, housing both boutique gems and popular retailers. For a deeper dive into Chester's rich past, the City Walls beckon. Your enchanted Christmas awaits in Chester.



8. Winchester Cathedral Christmas Market
Dates - 17th November - 21st December

Location -

9 The Cl, Winchester SO23 9LS
Recognised as one of Europe's premier Christmas Markets, Winchester Cathedral's festive event is a global attraction. Nestled within its historic grounds, visitors are drawn to the wooden chalets inspired by traditional German markets. The chalets, coupled with festive lights, merry carol tunes, and the enticing scent of mulled wine and cinnamon, create a perfect Yuletide ambiance for shopping and soaking in the holiday spirit. Central to the city's festive celebrations, the Cathedral boasts myriad Christmas services, carol concerts, and events. Entry to the market is complimentary. Experience this renowned Christmas Market and journey within the cathedral to uncover a millennium of history, further enriched by Advent and Christmas melodies from its world-class choir.


9. Newcastle Christmas Market
Dates - 18th November - 23rd December

Location - Grey's Monument, Grainger Street, Newcastle upon Tyne, UK
Newcastle's Christmas Market, from 18th November to 23rd December, graces the city centre: open 10am-8pm Monday to Saturday, and 10am-5pm on Sundays. Set along Grey Street, Grainger Street, and Old Eldon Square—with its 10-metre illuminated Christmas tree—the market promises festive enchantment. Weekends boast street entertainment, and Grey's Monument introduces a live performance area showcasing music, choirs, and more. This year emphasizes local talent, championing regional independent businesses and artisans. Expect an array of local traders presenting bespoke jewellery, eco-friendly beauty items, unique clothing, homemade chutneys, Churros, and distinctive gifts. For a relaxing break, the alpine-themed Moosenwirt yurt bar near Grey's Monument offers a snug haven with mulled wine and a fire pit.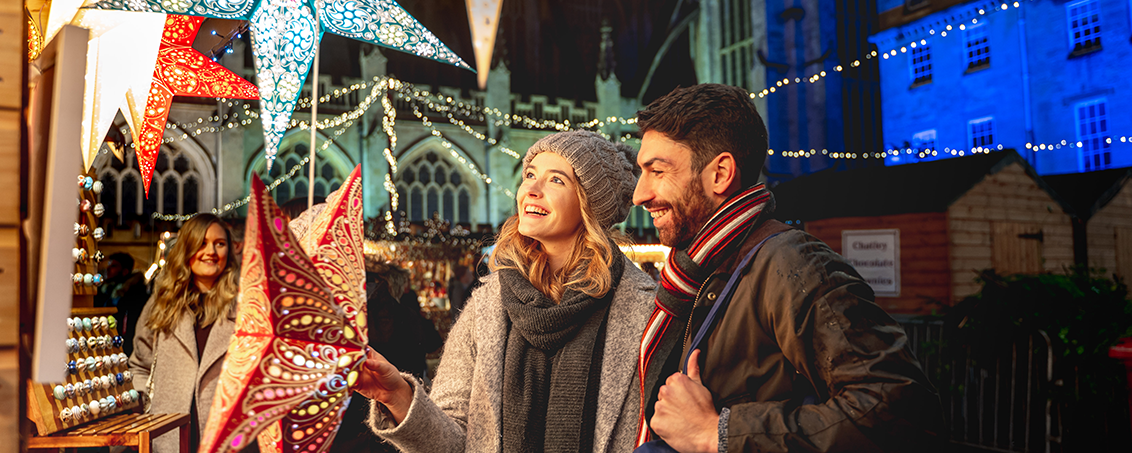 Photo Credit - Bath and North East Somerset Council
10. Bath Christmas Market
Dates - 23rd November - 10th December

Location - Abbey Chambers, Bath BA1 1LY

Bath Christmas Market, nestled within the historic heart of this World Heritage city, is a captivating seasonal spectacle. As winter's embrace cloaks the iconic Georgian streets, over 200 artisan stalls come alive, showcasing handcrafted gifts, festive delicacies, and unique keepsakes. The melodious hum of carolers and the aroma of mulled wine intertwine, creating an enchanting ambiance. Surrounded by landmarks like the Roman Baths and Bath Abbey, the market becomes a twinkling wonderland, radiating warmth against the cold stone facades. Amid the glow of fairy lights, visitors are transported into a Yuletide haven, where every turn reveals age-old traditions blending seamlessly with modern festivity. Bath Christmas Market isn't just a shopping destination; it's a soulful journey into the very essence of holiday magic.


Photo Credit - The Blenheim Palace Heritage Foundation Charity
11. Blenheim Palace Christmas Market
Dates - 17th November - 17th December

Location - Blenheim Park, Oxfordshire OX20 1PP

Blenheim Palace Christmas Market is an enchanting fusion of tradition and grandeur, set against the backdrop of the magnificent Blenheim Palace—a UNESCO World Heritage site. Each winter, the sprawling grounds transform into a festive oasis, where handpicked artisans display their crafts, offering visitors a curated selection of gifts and gourmet treats. As lanterns cast their soft glow upon cobblestone pathways, the scent of roasted chestnuts and spiced cider permeates the crisp air, beckoning guests into a Yuletide reverie. The market's charm is heightened by the surrounding Baroque architecture, while nearby, the palace's illuminated gardens add to the dreamlike ambiance. It's more than a market; Blenheim's Christmas gathering is a heartwarming celebration, intertwining history, festivity, and the timeless spirit of the season in one unforgettable setting.


Photo Credit - Holkham Estate

12. Holkham Hall Palace Christmas Market
Dates - 9th - 10th December

Location - The Lady Elizabeth Wing in Holkham Park
Holkham Hall Christmas Market is a festive jewel set in the heart of Norfolk. This grand Palladian-style country house, with its opulent architecture, becomes a winter wonderland, inviting visitors into its seasonal embrace. As you stroll through, the market unfurls a tapestry of artisan crafts, offering handcrafted gifts, from bespoke jewelry to artisanal cheeses. The melodious strains of carol singers echo through the crisp air, blending with the tantalizing aromas of mulled wine and freshly baked mince pies. The majestic façade of Holkham Hall, illuminated in golden hues, lends an almost ethereal glow to the surroundings. Period costumes worn by some stallholders add a touch of nostalgic charm, harkening back to yesteryears. Holkham's Christmas Market is not just a shopping experience; it's a step back in time, a momentary journey to a bygone era of elegance and festive merriment, all set within the timeless beauty of the Hall's grandeur.


Looking for some Christmas Gift inspiration?

Our travel guides make the perfect stocking filler...